How To Get Started With Affiliate Marketing
How To Get Started With Affiliate Marketing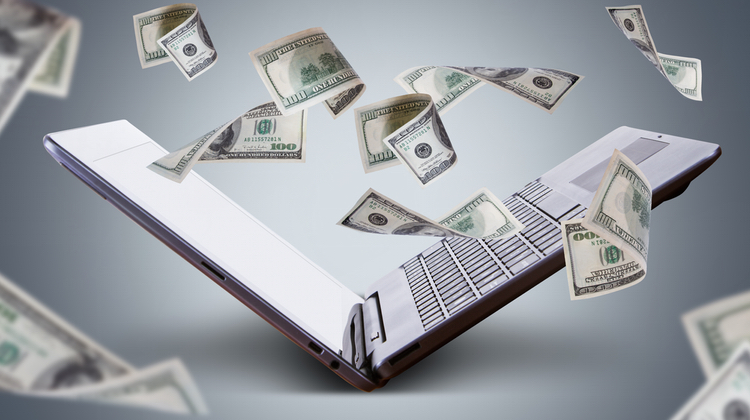 When it comes to monetizing a blog, there are a handful of ways to go about it. But from my experience, one of the most reliable and profitable ways to earn a passive income with your blog is through affiliate marketing.
If you're reading this post, chances are you're somewhat familiar with affiliate marketing. However, if you're new to the concept, let's cover the basics real quick.
Affiliate marketing is a type of performance-based marketing in which a business rewards one or more affiliates (a.k.a. you) for each visitor or customer that's delivered by the affiliate's own marketing efforts.
This means that companies will give you a cut of their profits if you send them customers. You simply recommend relevant products to your audience and receive a commission for every sale.
Now, depending on the company, the structure of the affiliate program will vary. For example, some companies will pay you just for sending them traffic and some companies will pay you only after a sale is made. Either way, affiliate marketing is by far one of the most popular and lucrative revenue streams when it comes to monetizing a blog.
Why Affiliate Marketing?
• You don't need to create a product
• 100% digital
• No inventory to worry about
• Recurring commissions
• 24/7 sales on autopilot
• Free to get started
Before we jump in, let me give you some proof that this monetization technique really works. Over the course of about a month, my blog was able to generate a little over $4000. I realize that this isn't a crazy amount of money, but keep in mind that I started Blog With Ben less than a year ago.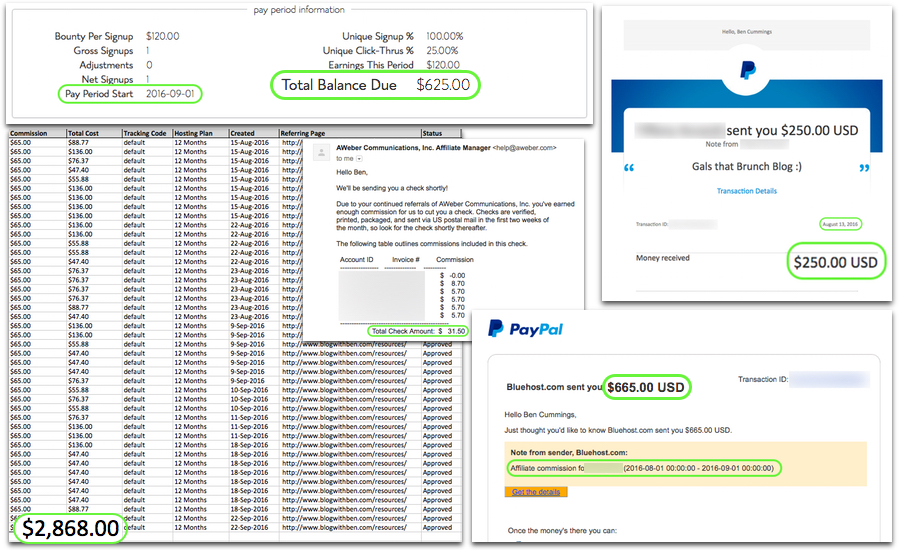 Screenshots of my Aug-Sept 2016 affiliate earnings.
Since then, I've seen my affiliate earnings increase each and every month. The great thing about this revenue stream is that I'm earning a passive income while I'm away from my computer. I literally earn money while I sleep. I hate saying that because it sounds so cliché, but it's true.
Now that's not to say that this is a "set it and forget it" type of strategy. There's actually a lot of work that goes into the affiliate marketing process as a whole. But once you have it working for you, the payoff can be huge.
So, with that being said, let's dive into the monetization strategies that I use on my blog and learn how to get started with affiliate marketing.
Build Your Digital Platform
In order to have any type of substantial success with affiliate marketing, you'll need some sort of digital platform to start the sales funnel. Now I may be biased, but a self-hosted blog is by far one of the most profitable digital platforms available.
A self-hosted blog allows you to retain 100% control of your blog. This means that you have creative control, financial control, marketing control, and so on. You have 100% control over every aspect of your blog, which means you get to keep 100% of the earnings.
Now, there are two major components to a self-hosted blog: web hosting and blogging software. You have a TON of choices when it comes to theses two factors, but from my experience, Bluehost web hosting (affiliate link) combined with WordPress.org is by far the most powerful foundations for self-hosted blogs.
Plus, most companies will want to see your blog before they allow you to promote their product or service. That's why it's important to have a well-designed and professional looking blog before you get started with affiliate marketing.
How to build your digital platform:
• Download The Blog Starter Kit (free eBook)
• Follow my step-by-step video tutorials
• Set up your web hosting account
• Install WordPress.org with the 1-click install
• Start blogging
Create Valuable Content
Once you have your blogging platform set up, it's time to start creating content. Believe it or not, this is probably the most important aspect of affiliate marketing. Reason being, your content is what draws the reader in, gains their trust, and keeps them coming back for more.
Developing valuable content is the catalyst for online success and should be a top priority when it comes to your affiliate marketing strategy. None of this will work if people aren't visiting your blog, and the way they visit your blog is by reading your content.
You don't have to be an English major to create valuable content, but you do have to be willing to write. Creating content takes a little elbow grease, but it's the voice of your blog and a direct line to your audience.
The key component to creating valuable content is to understand your audience. If you know your target audience then you can create content that speaks to their needs, wants, desires, and problems.
This allows you to help people better their lives through your content, and it's one of the most powerful value propositions you can offer. Plus, by having a blog, you're able to consistently publish content and deliver value to your audience on regular basis.
Remember, your content is the catalyst for successful affiliate marketing campaigns. High-quality content coupled with a relative affiliate program will almost always lead to high conversion rates.
How to create valuable content:
• Know your audience
• Help them solve a problem
• Educate them
• Be consistent
• Write well (use Grammarly…trust me)
• Include media in your content (video, images, eBooks, & audio)
Sign Up With Affiliate Networks
Affiliate networks are great because they offer a platform that allows merchants and publishers to discover one another. If you're new to the concept, merchants are companies that offer affiliate programs, and publishers are affiliate marketers who promote these companies on their site.
The affiliate network acts as an intermediate between the two, which lets merchants reach a larger audience and offers publishers (a.k.a. affiliates) the opportunity to earn a share of the sale.
Now, when signing up for an affiliate network there are a few things to keep in mind. First, you need to understand the different types of affiliate networks that are available. For example, there are CPA networks (Cost-Per-Action) and CPS networks (Cost-Per-Sale).
CPA networks pay for actions taken like clicks, downloads, or sign-ups. CPS networks pay after a sale is made. Each has their pros and cons, but your affiliate strategy should match the type of network you sign up for.
Before signing up, be sure to do your research. There are a lot of affiliate networks out there, but some of them can be shady. Just know that a good affiliate network will have a thorough signup/approval process, trusted tracking, real-time reporting, and monthly commission checks.
Here's a quick list of some of the most reliable and professional affiliate networks out there. A good rule of thumb is to do a thorough online search of affiliate networks and check out the reviews before joining.
Reliable CPS affiliate networks:
• CJ Affiliates
• Shareasale
• Amazon Associates
• Ebay Partner Network
• Avangate
• ClickBank
• FlexOffers
Shareasale has a great blog that's filled with a ton of helpful resources and articles. Check out this post that walks you through their affiliate signup process step-by-step.
Join Affiliate Programs
Now that you're somewhat familiar with affiliate networks, you can start exploring the various affiliate programs that merchants offer. Every affiliate program is different, so be sure to pick a program that matches your goals.
Also, be sure to research the company's affiliate program before you join. You'll want to make sure it's going to be a mutually beneficial relationship.
Some things to look for when partnering with an affiliate program are:
• Commission rates
• Conversion rates
• EPC (Earnings-Per-Click)
• Network earnings
• Affiliate support
• Affiliate resources (links, banners, ads, etc.)
• Referral Period (cookie duration)
• Payment processing
To gain a better understanding of these bullet points, let's take a closer look at an actual merchant's affiliate program.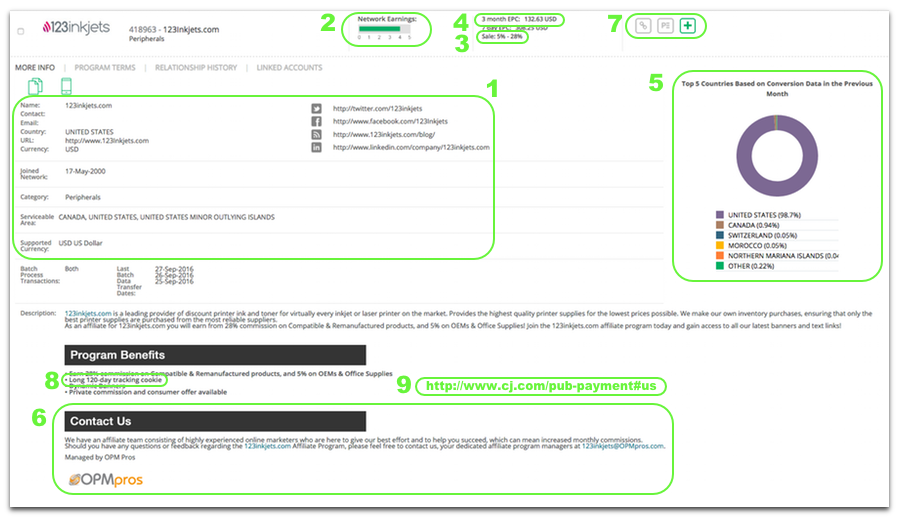 This is a screenshot of 123inkjets affiliate program in Commission Junction. On a side note, this is one of the many reasons why I like CJ Affiliates because they provide detailed stats and information about their affiliate programs.
Let's breakdown some of the key elements of this program so that you can get a better understanding of an actual affiliate program. Keep in mind that not all affiliate networks will provide the same details about their programs. But, these are some good benchmarks for when you start researching affiliate programs.
1. Company Info: 123inkjets' profile is transparent and reassuring. That's a good thing when dealing with affiliate marketing. They list their company's URL, description, social links, country, category, supported currency, and how long they've been with the network.
2. Network Earnings: The CJ network provides a bar ranking system that rates advertisers with others in the network based on commissions paid out. The higher the ranking, the more commissions the program has paid out.
3. Commission Rates: Every affiliate program structures their payouts differently. 123inkjets pays a percentage of the sale, whereas some companies pay a flat rate. Either way, it's up to you on what you feel is an appropriate commission rate.
4. Earnings Per Click: Your EPC (Average Earnings Per One Hundred Clicks) is a relative rating that illustrates the ability to convert clicks into commissions. The CJ network displays a 3 month and 7 day EPC. Both are good indicators of whether or not an affiliate program is profitable.
5. Conversion Data: This diagram shows the top five countries based on conversion data in the previous month. This is helpful if your traffic is geo-specific. For example, if your blog's traffic is exclusively Canadian web traffic…this program isn't for you.
6. Affiliate Support: 123inkjets has an entire team, FAQ page, and point of contact that's dedicated to their affiliate program. Sometimes this info is listed in the affiliate network profile, but you can also go to a company's homepage and find their affiliate support page in the footer.
7. Affiliate Resources: When joining an affiliate program, review the various marketing tools that the company offers. A good program will have things like links, banners, promo email templates, sales tracking, and a knowledge center.
8. Referral Period: 123inkjets has a 120-day referral period. This means that if you refer a visitor, a tracking cookie is set on that visitor's machine. Then, if that same visitor decides to buy something at 123inkjets during those 120 days, you'll still get credit for the referral.
9. Payment Processing: 123inkjets partners with the CJ network, so you'll have access to free direct deposit services that send monthly payments to your bank account. If you don't choose direct deposit, Commission Junction will send you a check in the mail in the currency of your choice.
Promote Affiliate Offers
Every affiliate marketer has his or her own strategy whenever it comes to promoting. As they say, there's more than one way to skin a cat.
However, over the years, I've developed a four-part affiliate promotion strategy that has helped me earn revenue across multiple niches. I call it the T.W.E.R.K. strategy.
I realize that the acronym is a bit odd, but it's easy to remember and it helps guide every affiliate campaign I launch. So, let's break down each part of this strategy and take a closer look at how I implement it.
Transparency: This is by far the most important part of this strategy. Reason being, it's the law. The Federal Trade Commission (FTC) states that all affiliate websites (e.g. directories, review/rating sites, blogs and other websites) and any email or collateral that provide an endorsement or assessment, must prominently disclose the fact that you may receive compensation for referring customers.
As an affiliate marketer, you always need to disclose the fact that you're getting paid to promote a product or service. Just be upfront with your audience about your affiliate links. I guarantee that they'll appreciate it and they'll probably be more inclined to make a purchase when you tell them the truth. Not adhering to FTC guidelines can not only get you in trouble with the law, but companies you partner with could ban you from their affiliate programs and withhold your fees. This will have a direct impact on your earnings and future partnerships.
Walk-through: Would you buy something just because I told you to? Probably not. However, what if I thoroughly reviewed the product or showed you how to set it up step-by-step? I'm pretty sure you'd be much more inclined to make a purchase then.
Instead of just plastering a ton of banners and links on your blog, try incorporating affiliate offers within your content. For example, you could write a detailed blog post that reviews the product you're promoting, or you could record a video tutorial that walks the customer through the setup process.
Either way, when you take the time to explain how the product works and how it will benefit the customer, chances are your conversion rates will skyrocket.
Experience: Promote products that you have experience with. This builds trust with your audience and it allows you to position yourself as an authority. Plus, people tend to make a purchase through an affiliate link if you've actually used the product and know what you're talking about. That's because you're not selling them, you're helping them. Your experience shifts their mindset which changes how they perceive your affiliate links.
Relevance: Your affiliate promotions should be relevant to your audience. You don't see me trying to promote affiliate offers for running shoes on my blog, do you? No, I promote products that are relevant to building a blog.
It's a simple tactic, but far too often people promote things based off of the commission rate. This leads them to promote products that have no relevance to their audience's needs, wants, and desires. Just try to stick to products that your audience would typically consume.
Keep It Simple: It's easy to get distracted by all the different affiliate programs out there, but from my experience, less is more. Think about it, if someone visits your blog and it's littered with affiliate banners, popup ads, and links, I can almost guarantee you that they'll bounce. Keep things simple by having a balanced distribution of affiliate offers across your web properties.
Affiliate marketing promotion tips:
• Have an acquisition channel (blog, podcast, website, etc.)
• Generate traffic through social media and PPC (pay-per-click) methods
• Integrate affiliate offers within your content
• Write product reviews
• Record an unboxing or step-by-step tutorial
• Build your email list and promote affiliate offers to that list
• Use sidebar and banner ads sparingly
• Create a resource page that includes affiliate offers
Like I said, there are multiple affiliate marketing promotional techniques out there, but I encourage you to T.W.E.R.K. whenever you launch an affiliate campaign. 😉
Get Paid
Now it's time for the fun part. It's time to get paid! But, before you go out and buy that new sports car, you need to make sure that you understand how affiliate marketers get paid.
Every affiliate program handles their payments differently. That's why it's important to read the affiliate terms and conditions before joining any affiliate program. Let's cover some of the most frequently asked questions whenever it comes to getting paid.
How do I get paid?
First and foremost, before you get paid you'll need to provide the proper tax forms. If you're in the US, be prepared to submit your W-9. If you're outside the US, you'll need your W-8.
Most affiliate programs pay by check, wire transfer, PayPal, Payoneer, or direct deposit, but you won't see a dime without the proper paperwork. This is typically handled during the signup process, but just know that you'll be required to provide tax forms before getting paid.
When do I get paid?
Some affiliate programs pay once a certain threshold has been broken. For example, the Elegant Themes affiliate program pays their affiliates once they've made $58 in sales. When you get paid will vary, depending on the program you're partnered with.
Additionally, commission checks are sent at the discretion of the company's affiliate program. Some affiliate programs pay monthly, some pay weekly, and some pay every 55 days. It just depends on how their payment schedule is structured. You can typically find this information in a company's FAQ page or the affiliate terms and conditions.
How much can I make?
The sky's the limit. There are bloggers that make well over $50K per month with affiliate marketing. However, the amount of money you make depends on your niche, your content, and the affiliate program you're partnered with.
Some affiliate programs will start your commission rate at a certain amount, but once your start bringing them business they'll increase it. Additionally, there are affiliate programs that have huge commissions ($500+ per sale) on big-ticket items. The amount of money you make depends on your strategy, but there's a ton of potential to earn some real money with affiliate marketing.
Wrap Up
Hopefully, this post has shed some light on how you can start making money with your blog. Affiliate marketing is one of my most lucrative blogging business models, and I encourage you to start thinking of ways you can implement these strategies in your next affiliate campaign.
Remember, affiliate marketing is about building relationships. You build these relationships by providing continuous value to your audience. Be transparent, publish valuable content, and help your audience. The rest will fall into place.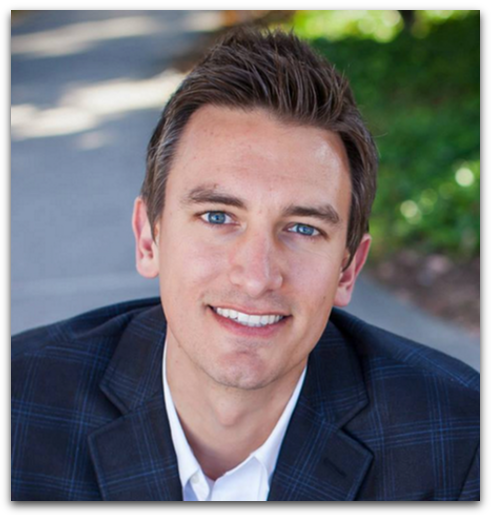 Written by Ben Cummings
Founder of blogwithben.com
Ben is a Digital Marketing and CMS Specialist for Bridgepoint Education who holds an MBA with a specialization in Entrepreneurship. He enjoys teaching, blogging, startups, a hoppy IPA, and college basketball. Whenever he's not blogging, you can find him cruising around sunny San Diego with his amazing family.