How to Make an Ebook With Google Slides
How to Make an Ebook With Google Slides
As a blogger, one of the most effective ways to grow your audience is through a lead magnet. If you're new to the concept, a lead magnet in the blogging world is simply a digital freebie (eBook, cheat sheet, video tutorial, etc.) that helps you generate leads.
Here's how it works:
1. You offer a free "lead magnet" on your blog in exchange for a visitor's email address.
2. When a visitor signs up, they receive the digital freebie and you receive their contact info.
3. You create a mutually beneficial relationship that doubles as an effective growth strategy.
Now, you have a lot of options when it comes to what type of lead magnet to use on your blog. However, from my experience, one of the highest converting lead magnets is an eBook. To this day, The Blog Starter Kit is one of my strongest performing lead magnets.
Implementing this strategy is the easy part, but actually creating the eBook is where a lot of people get hung up. Luckily, creating an eBook has become a lot easier to do than it was a few years ago.
That's where this blog post comes into play. I'm going to show you how to easily create a high-quality lead magnet using Google Slides and my free eBook template.
With this template, you'll be able to skip having to come up with a design and focus on one thing…the content. So, what are you waiting for? Let's start building your eBook!
Access the eBook Template
In order to access the free eBook template, you'll need to sign up for my newsletter. This VIP resource is for subscribers only, so all you need to do is sign up and it's yours. Plus, as a subscriber, you'll also get instant access to The Blog Starter Kit, my blogging editorial calendar, and a landing page template.
If you don't feel like signing up now, no worries, you can still follow along and learn how to use Google Slides to create your own eBook. You just won't be able to access the eBook template.
Sign Up for a Free Google Account
I created this eBook template using Google Slides. So, in order to customize the template, you'll need a Google account. If you don't have one, be sure to sign up for a free Google account before moving forward with this tutorial.
Also, by having a Google account, you'll get access to Google Drive's 15 GB of free cloud storage. This is where you'll host your eBook and it's also where you'll create the shareable link. Google has a ton of great tools and resources for bloggers, so I highly recommend signing up for a free account.
Make and Save a Copy of the eBook Template
Once you've accessed the ebook template in Google Slides, you'll need to make and save a copy of the template to your Google account before you can start customizing it.
In the upper left-hand side of the screen, click on File, and then select Make a copy.
Next, you'll see a popup window that gives you the ability to rename the file and save it. By default, it will save the file to your "My Drive" folder in Google Drive. For now, I recommend renaming the file, saving it to "My Drive", and clicking OK.
Edit the eBook Template
Now that you've made and saved a copy of the template, you now have the ability to edit it. This is where you can make the eBook your own.
You can change the titles, replace the cover image, change the colors, delete pages, add pages, and so much more. You literally have the ability craft an amazing lead magnet. All you have to do is swap out the content.
Convert the eBook Template to a PDF
Once you've finished editing and customizing the eBook template, I recommend that you turn it into a PDF. This way your eBook can be easily distributed and consumed by your audience. This is how I distribute the Blog Starter Kit and it's a highly effective strategy for building your email list.
To convert this to a PDF, simply click on File, the select Download as, and then click on PDF document.
After it's finished downloading, you'll have a sleek and innovative eBook that's ready to help you build your email list!
Host the eBook on Google Drive
In order for you to efficiently distribute the eBook to your audience, I recommend that you host it on Google Drive and create a shareable link for the PDF. This will allow you to easily distribute the eBook to your audience, and by hosting it on Google Drive, you'll be saving valuable space on your WordPress blog.
To access your drive, you'll need a Google account. Once you have an account, go to Google Drive and click on the Go to Google Drive button.
Next, upload the PDF (eBook) that you just downloaded to your Google Drive. In the upper left-hand side of the screen, click on the New button, and then click on File Upload. Next, find the PDF that you just downloaded and save it to your Google Drive.
Create a Shareable Link
Finally, we want to create a shareable link. And again, this is the link that you'll use to give people access to your lead magnet. For example, whenever someone signs up for your email list and is expecting your eBook, you can send them this shareable link to grant them access to the PDF.
In order to create the shareable link, simply find the file in your Google Drive and right click on it. Then from there, select Get Shareable Link.
Next, you'll see a popup window that displays the link. But, before you do anything, I want to point a few things out. First, make sure that you have link sharing on, and then make sure that it's set to View Only….not Edit. You don't want people changing your lead magnet around.
Finally, test the link to make sure it's working properly. Copy and paste the link in a browser and you should see your eBook in a PDF format.
Use the Link to Build Your Email List
Now that you know that the link works, you can easily distribute your eBook and start using it to build your email list.
An eBook is one of the most effective lead magnets. Hopefully, this tutorial has shed some light on different ways you can use this template to your start growing your email list!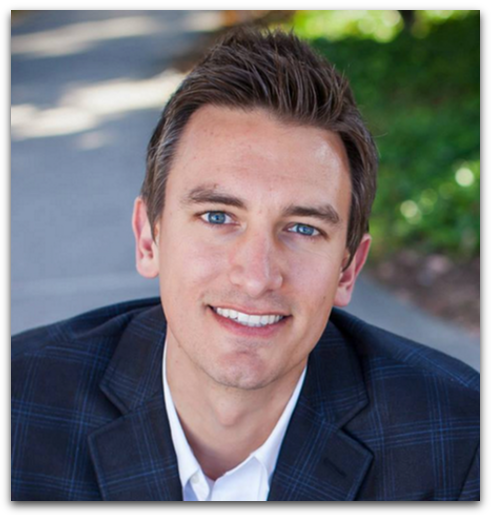 Written by Ben Cummings
Founder of blogwithben.com
Ben is a Digital Marketing and CMS Specialist for Bridgepoint Education who holds an MBA with a specialization in Entrepreneurship. He enjoys teaching, blogging, startups, a hoppy IPA, and college basketball. Whenever he's not blogging, you can find him cruising around sunny San Diego with his amazing family.