How to Measure Blog Traffic With Google Analytics
How to Measure Blog Traffic With Google Analytics
So, you've taken the plunge and you've started a blog. Maybe you've even written a few blog posts. Shoot, maybe you've even started to grow your audience. That's great, but how do you know whether or not your content is working? How do you know if your blog posts are successful?
You could be publishing ten blog posts a week, but if no one is reading them, then why waste your time? This isn't to say that you should give up. Quite the opposite. This post is to help you better utilize your time, resources, and assets by using Google Analytics to measure your blog's traffic.
If you're new to the idea of analytics, or if analytics intimidate you, that's ok. Not everyone starts blogging with the idea that they're going to become this all-knowing and all-powerful analytics guru. But as your blog starts to gain momentum, it's extremely important that you become somewhat familiar with Google Analytics.
What is Google Analytics?
Google Analytics is a free web analytics service offered by Google that tracks and reports web traffic. Their slogan, "turn insights into action" couldn't be more spot-on. Having the tools to monitor your blog's traffic allows you to make insightful decisions when it's time to take action.
First things first, if you haven't set up your Google Analytics account, then head over to Google and get that going. It's a pretty quick process.
After you set up your free account, and install the analytics tracking code, you're ready to start tracking your blog's traffic.
If you're still a little iffy and want some practice, no worries. Google has just released their Google Analytics demo account. This is a fully functional Google Analytics account that anyone can access. It's a great way to look at real business data and experiment with the Google Analytics interface.
How To Find Blog Traffic In Google Analytics
The first thing I recommend you learn how to do is to access your blog's traffic. This data point will give you some major insight into your blog's performance that can assist in the decision-making process when it comes to the overall direction of your blog.
For example, let's say you review different types of products on your blog and you write one post about electronics and another post about leather notebooks. You can then use Google Analytics to measure which one of these posts performed the best. Here's how it's done.
Step 1 – Log In To Google Analytics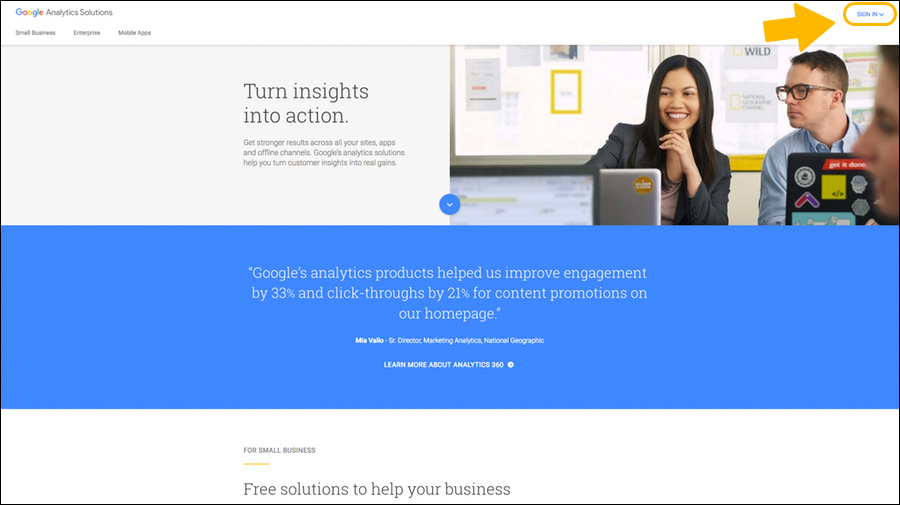 Whenever you first log in to your Google Analytics account and see the dashboard for the first time, it can seem pretty daunting. That's why I recommend you start small and only measure one or two things at a time. This way you get comfortable with the platform.
Once inside, you'll want to access the "Reporting" section. This is where you can get an overview of your blog's audience. However, we want to get super specific and drill down to specific blog posts. So in order to do that, we'll need to access the Behavior section.
Step 2 – Click on Behavior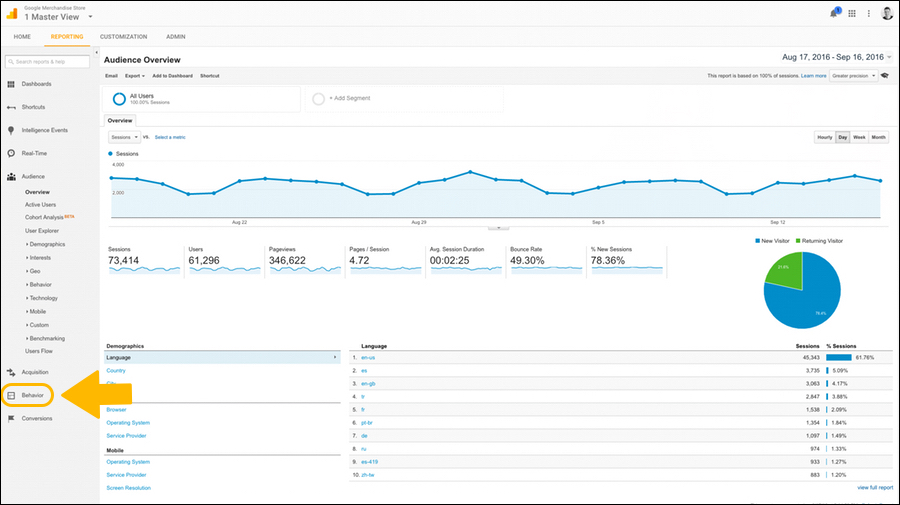 On the left-hand side of the screen, you'll see multiple variables that you can access. They all offer extremely insightful analytics, but for this tutorial you'll want to scroll toward towards bottom and click on Behavior.
Step 3 – Click on Site Content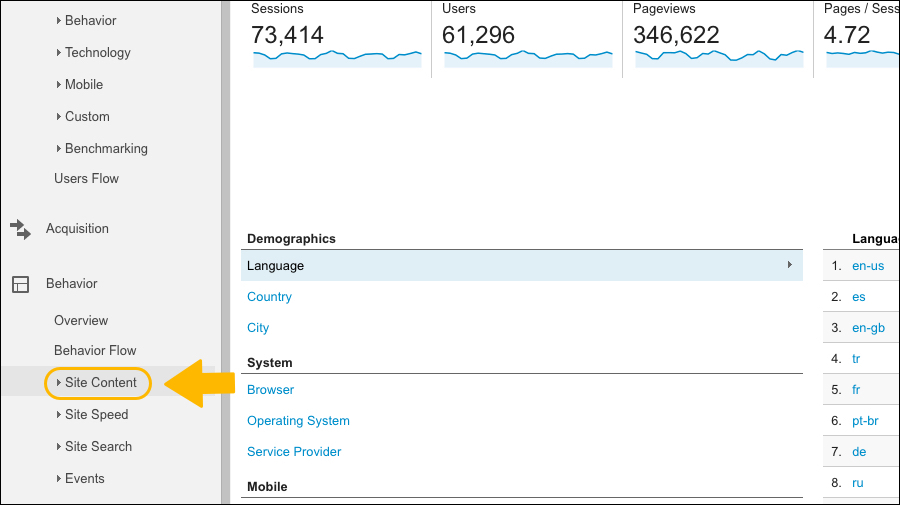 Next, a dropdown menu will appear. You'll have a few options here, but since you're going to be viewing the data from your blog, click on Site Content.
Step 4 – Click on All Pages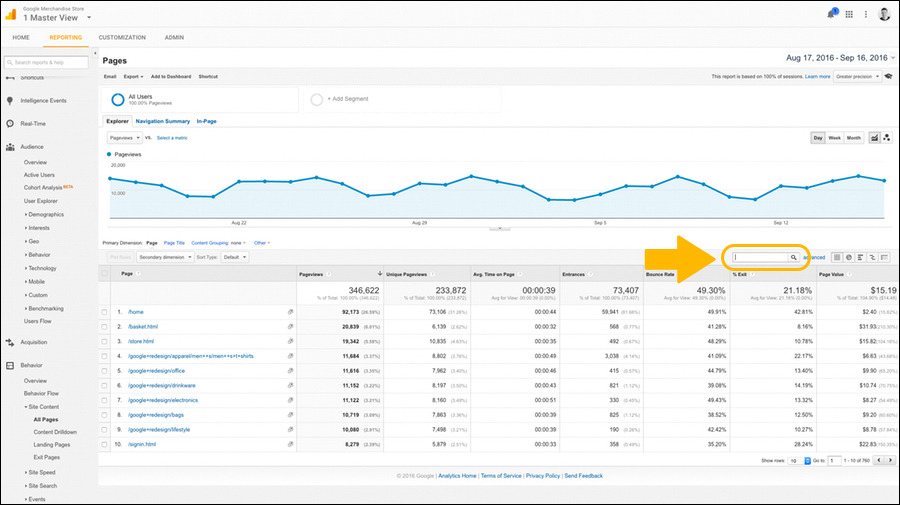 Next, you'll see an other dropdown menu. Click on All Pages and you'll see overview of all the traffic to each page on your blog.
Google lists a handful of dimensions, but we're going to focus on page views. They're listed first and are one of the key dimensions that can help determine whether or not a blog post is successful.
Next, let's filter the results so that you can drill down and view the amount of page views for a specific blog post. This way you can compare the page views between the electronics and leather notebook blog posts.
Step 5 – Filter the Page Results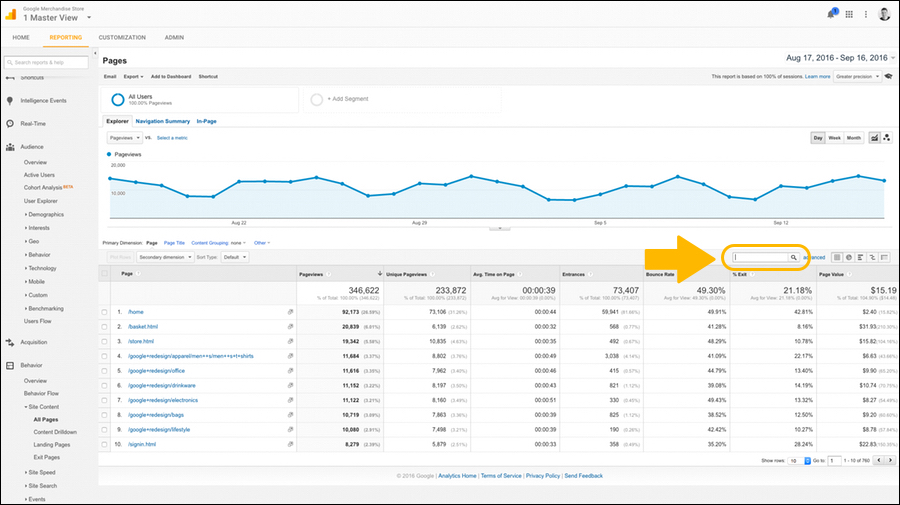 This is an effective strategy, but it does depend on how you structure your URLs. For this tutorial, we are assuming that your URL structure uses keywords from the post title in the permalink.
Towards the top of the report, there's a search bar. This allows you to filter the results by keywords within the URL.
Since the two posts we want to compare are about electronics and notebooks, you'll enter those two keywords in the search bar. Be sure to search one keyword at a time. Doing so will allow you to get a much better idea of the traffic that's visiting each blog post.
The Results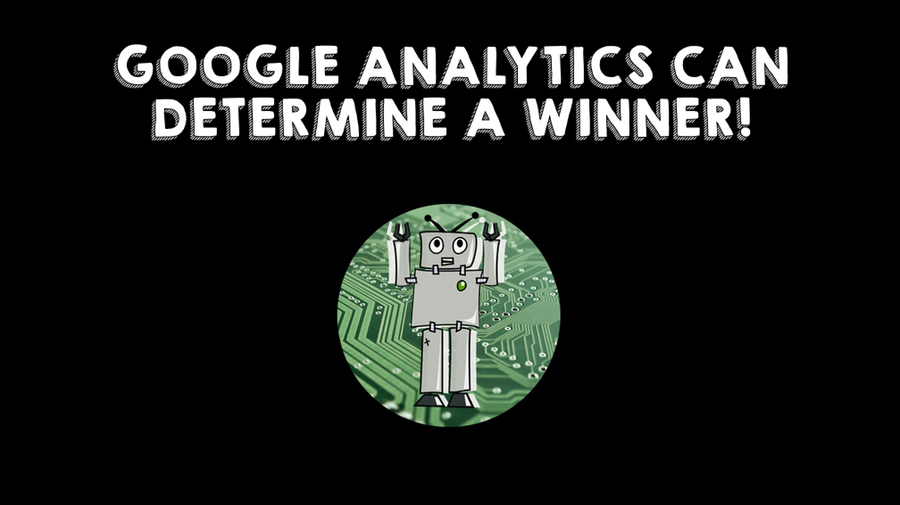 So, as you can see in the video, we clearly have a winner. Keep in mind that we're using the Google Analytics demo account, so the URL structure may seem a little weird. Nevertheless, for this example, the URL (blog post) that contains the keyword "electronics" has a much larger amount of traffic going through it.
This would be a clear indicator that your audience prefers blog posts about electronics, and knowing what types of content your audience consumes is a huge advantage that can help you develop a much stronger content strategy.
Additionally, this could equal dollar signs as well. More traffic equals more eyeballs on your blog. This could lead to an increase in email subscriptions, affiliate click-throughs, and product purchases (if you're selling a product).
In Conclusion…
Google Analytics is an extremely powerful tool. Keep in mind that there are other data points that could indicate whether or not a blog post is performing well, but I recommend that you start with one metric (blog traffic). Once you get comfortable with using this data, you should definitely start diving into some more diverse analytics (time of day, social source referral, etc.).
Finally, having this type of information is crucial to your overall content strategy because it gives you detailed insight on what type of content your audience prefers. Once you've figured out the types of blog posts that perform well, focus your efforts on creating content around that topic.
Hopefully, this gave you a good introduction to Google Analytics. I honestly can't stress enough the importance of adding Google Analytics to your blog. Even if you just use it to view your audience overview, you'll gain some valuable insight that can help your blog become much more successful.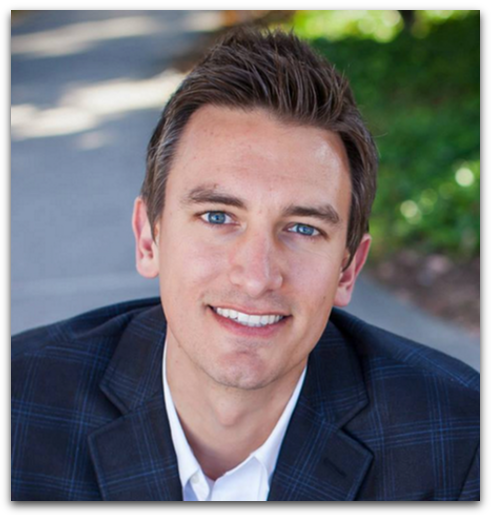 Written by Ben Cummings
Founder of blogwithben.com
Ben is a Digital Marketing and CMS Specialist for Bridgepoint Education who holds an MBA with a specialization in Entrepreneurship. He enjoys teaching, blogging, startups, a hoppy IPA, and college basketball. Whenever he's not blogging, you can find him cruising around sunny San Diego with his amazing family.