12 Best Chrome Extensions for Bloggers
12 Best Chrome Extensions for Bloggers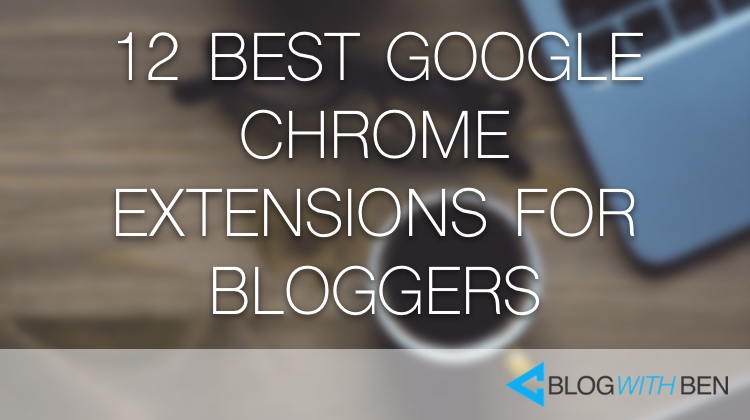 When I first started blogging, three of my biggest obstacles were productivity, time management, and organization. However, with the help of Google Chrome's browser extensions, I was able to quickly overcome those blogging roadblocks.
Reason being, the extensions allow me to customize my Google Chrome browser to better suite my needs as a blogger. With the help of these little add-ons, I'm able to work much more efficiently.
So, with that being said, let's take a closer look at the twelve Chrome extensions that are specifically geared towards helping bloggers become more efficient.
Grammarly
There's nothing worse than publishing a blog post and then noticing that you've spelled the word restaurant wrong. It's embarrassing, unprofessional, and it makes you look lazy. Trust me, I've been there.
But that was before I discovered Grammarly. This free application is like having a professional proofreader watch you write and correct your mistakes as you type. Grammarly's free app makes sure that your writing is effective and mistake-free.
Features:
Fixes spelling and grammatical errors on the fly.
Improves vocabulary with suggested words.
Ensures that your writing is clear.
Grammar and spelling will be checked no matter where you write.
Chrome extension can easily be turned off when using specific sites.
Premium features available if you want to take your writing to the next level.
Trusted by over 4 million users.
Google Doc Quick Create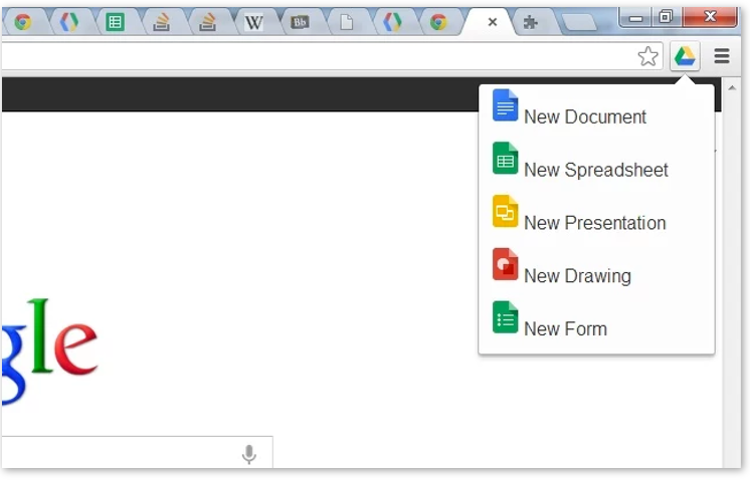 The arrival of Google Docs has revolutionized how people create, edit, and share documents. Gone are the days of writing a document in Word, saving it to your hard drive, and then emailing it as an attachment. With Google Docs, you can write, edit, and collaborate wherever you are across multiple devices.
As a blogger, this type of flexibility is awesome. The Google Doc Quick Create extension lets you write, edit, and share your blog post drafts from literally anywhere with a click of the mouse.
Features:
Access, create and edit your blog posts wherever you go.
Share your work with anyone.
Multiple people can work on the same document at the same time.
Edit in real-time.
Chat & comment within the doc.
All changes are automatically saved as you type.
Revision history to see old versions of each doc.
Evernote Web Clipper
What do you normally do whenever you find a useful article or video online? You bookmark it, right? But over time your bookmarks can become an overwhelming list of websites and folders that simply grow out of hand. This makes it hard to find what you're looking for and you end up spending more time searching for what you want.
Enter the Evernote Web Clipper. This Chrome extension is an innovative way to save, share, and curate great content online. Once you sign up for your free Evernote account, you can start "clipping" things you find on the web.
What I love about this extension is how specific you can get. For example, you can highlight text, take full screenshots, save full websites, bookmark pages, and send them directly to your Evernote account. It's truly an innovative way to save and organize content.
Features:
Easily save things you find on the web.
Share content across devices.
Access your "web clippings" offline.
Highlight and save pieces of text.
Customized clips (full page, screenshot, selection, or simplified article).
Tag content and save to your Evernote notebook.
Share and email clips or create a URL link.
Buffer
As a blogger, your focus should be on creating great content and sharing value with your audience. One of the most effective ways to share valuable content is through social media. But as you probably already know, it's easy to get bogged down with having to consistently post across multiple social networks.
Buffer is the solution to your social media headache. Instead of posting the same thing three separate times on Twitter, Facebook, LinkedIn, and Google+, you can simply share it once through the Buffer Chrome extension. Buffer streamlines your social media strategy and gives you your time back so that you can focus on other areas of your blog.
Features:
Share content across multiple social media networks with one click.
Analytics about clicks, retweets, shares, likes, and much more.
Share links, track results, and collaborate with team members from one dashboard.
Schedule tweets and let Buffer take care of the rest.
Buffer posts when most of your audience in online and tracks the results.
Easy to use and it makes social media fun again.
MozBar
SEO is by far one of the most effective tactics when it comes to building authority and expanding your blog's reach. The only problem is that SEO can be tricky, and it can get a little technical. That's why it's nice to have resources like the MozBar by MOZ.
This Chrome extension is a great way to view SEO metrics while you surf the web. For example, if you come across a page that seems to be doing well in the search results, the MozBar is a great way to gain some insight on that particular page's SEO strategy.
Features:
Access important SEO metrics at a glance.
Create custom searches by search engine.
See how hard it is to rank for a certain keyword.
Expose page elements.
View social metrics for Facebook, Twitter, and Google+.
Premium Moz Pro features available.
Pushbullet
If you're a blogger on the go, Pushbullet may be your next best friend. This little guy is great for "pushing" content between devices and is another great way to share valuable content. Think of it as texting between your desktop and smartphone.
Here's how it works. Let's say you find a useful article while you're on your desktop, but you have to catch an Uber in five minutes. You can use the Pushbullet Chrome extension to send the link (with a message) to your smartphone so that you can read it during your Uber ride. Trust me, once you set it up, it's a great piece of technology.
Features:
Easily shares content between devices or friends.
Add SMS messages to links you send across your devices.
Text from your computer.
Send yourself reminders from any device.
Share links, photos, and much more from your desktop to your phone.
Word Count Tool
This one is pretty self-explanatory, but it's probably my most frequently used Chrome extension. That's because the amount of words you use in a blog post can be extremely important to your overall content strategy. Plus, knowing your word count as you're creating content will help you be a much more efficient blogger.
The Word Count Tool Chrome extension is really easy to use and it can display much more than the number of words within a post. You have the ability to view the characters without spaces, number of unique words, number of sentences, keyword density, estimated reading time, and much more.
Features:
Gives a quick and accurate word count.
Connects to the web version.
Right-click feature.
Easy to use.
Also shows keyword density, reading time, and much more.
StayFocusd
Distractions can be a killer when it comes to productivity, and one of the biggest distractions while blogging is the Internet. Ironic, right? But the Internet gives you direct access to pretty much anything you want. This has the potential to hinder your productivity and keep you from meeting deadlines.
One way to combat distractions is with StayFocusd. This extension works by limiting the amount of time you can spend on time-wasting websites. You'll be surprised at how much more productive you are when you aren't scouring Reddit or reading every article in your Twitter feed.
Features:
Block or allow entire sites for a certain amount of time.
Highly configurable.
Block in-page content (videos, images, games, forms, etc).
Stay distraction free with one click of the mouse.
Trusted by nearly 1 million users.
Turn Off The Lights
I watch a lot of online videos. Whether it's webinars, tutorials, online courses, or videos in my Facebook feed. Video content is slowly becoming the majority of content that I consume. With that being said, the Turn Off The Lights Chrome extension has made my video viewing experience a lot more comfortable.
What this extension does is it basically darkens everything other than the video that you're watching. With a single click of the lamp button (Chrome extension) the page will fade to dark and automatically focuses on the video. Click the lamp button again and the screen lights up. It's a simple, yet pretty innovative concept.
Features:
Turn the lights down with one click.
Supports multiple video sites.
Distraction free viewing.
Custom colors.
Atmosphere lighting available.
Shortcut keys.
Darken the screen when you click the play button.
Cloud HQ
This post is a great example of how easy it is to connect different technologies and streamline your work. Cloud HQ is one of those extensions that facilitates connectivity through cloud technology. There are various "scenarios" that could justify using Cloud HQ, but I use it to send my emails and Dropbox files to Google Drive. It really helps me consolidate my files and stay organized.
This extension also lets you sync, backup, and integrate anything from your Dropbox, Gmail, Salesforce, Basecamp, Evernote, and much more to your Google Drive. Like I said, it's a great way to stay organized and it helps to keep your files in a centralized location.
Features:
Set up an instant sync of your Google Drive.
Quickly send emails to Google Drive.
Safely backup your important files.
View all your files in the cloud directly from Google Drive.
Easily integrated, but Cloud HQ has a great support team.
Pocket
This little guy has decreased the number of tabs that I have open on my desktop, and it helps me save great pieces of web content as well. If I'm pressed for time, or if I want to store a great article for later, Pocket is my go to extension that helps me track, save, and curate great content.
Features:
Great for saving pieces of content in one place.
Automatically syncs to your phone, tablet, and desktop.
View your saved content anytime, even without an Internet connection.
One-click saving.
Right-click feature lets you save a link without opening the page.
View recommended content when you save to Pocket.
Trusted by over 2 million users.
Live Start Page
Whenever you open a new tab in Google Chrome you'll see a pretty basic layout. It typically consists of your most visited websites and a Google search bar. Now I'm not saying that there's anything wrong with that, but a new tab has a lot more potential than we give it credit for.
The Live Start Page Chrome extension turns new tabs within your browser into live-action to-do lists, clocks, and weather reports. You now have the ability to turn your new tabs into customized themes that can keep you motivated and productive throughout the day.
Features:
Awarded Best of 2015 Extensions.
Live screen features that bring each tab to life.
To-do list, favorite website organizer, and weather update.
Easy to use features and highly customizable.
Multiple themes to choose from.
Wrapping Up
It's no wonder why Google Chrome is one of the most widely used web browsers. With the addition of the Chrome extensions, you have the ability to truly customize your online experience. Plus, with the help of the extensions in this post, you can streamline a lot of the tasks that come with being a blogger. Visit the Chrome Web Store and get started with these free extensions today!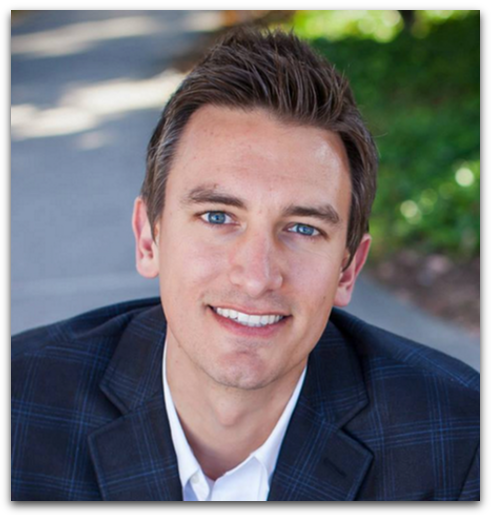 Written by Ben Cummings
Founder of blogwithben.com
Ben is a Digital Marketing and CMS Specialist for Bridgepoint Education who holds an MBA with a specialization in Entrepreneurship. He enjoys teaching, blogging, startups, a hoppy IPA, and college basketball. Whenever he's not blogging, you can find him cruising around sunny San Diego with his amazing family.